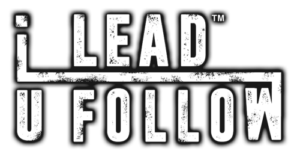 Ballroom dancers, and anyone who loves to Lead With Love™ and Follow With Faith™-on or off the dance floor-check out our new retail line!
Featured below is some of our newest merchandise including totes, t-shirts, jewelry and water bottles. Our brand, iLeaduFollow™ is all about what we believe in when it comes to ballroom dancing, and that is the true concept of lead and follow on the dance floor.
At our ballroom dance studio in Mesa, Arizona, lead and follow is our main focus. Rather than memorize choreography that you can only do with a particular partner, we introduce the concept of how to lead and/or follow on lesson one. With the principle of partnership and connection between two people at the forefront, anyone can learn to partner dance. It just gets so much more fun from there!
Our signature sayings, Lead With Love™ and Follow With Faith™ are gentle reminders to one another on how to take care of each other while enjoying a dance. Whether you're Salsa dancing, Swing dancing or Country Two-Stepping, you can always lead with love and follow with faith, in other words, trust that your partner will take care of you.
The story behind how each statement came to be is a cool one. In short, Lead With Love™ began as our philosophy on how to live life. From there, we realized how beautifully it tied into ballroom/partner dancing and teaching, our careers. Hence, Follow With Faith™, the other half to leading with love with on the dance floor, was created. How perfect!
Now on to our iLeaduFollow™ merchandise…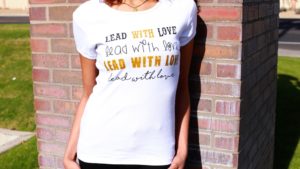 Our t-shirts are soft, cozy and ready to be worn on the dance floor or out and about. These trendy shirts all highlight our lead and follow quotes in a playful way.
Shirts are $25 and come in traditional adult sizes from small to XXL. For the ladies, we are offering cute, fitted tees and slouch shirts. And for the guys, we've got slim fit tees and traditional cut shirts.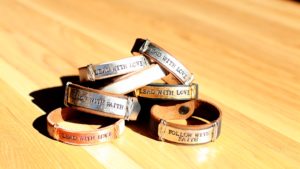 Our leather bracelets and chokers are a super cool way to show off your style. These one-of-a-kind hand-stamped, hand-made, genuine leather bands and necklaces truly make a statement. Custom orders are available upon request.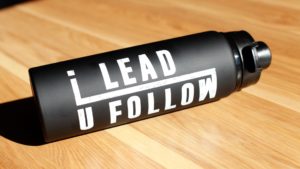 Have you seen our matte black, aluminum water bottles? These 24 ounce containers are perfect for keeping your drinks nice and cold while you're heating up on the dance floor. The flip top lids are great for easy access and a hassle free experience.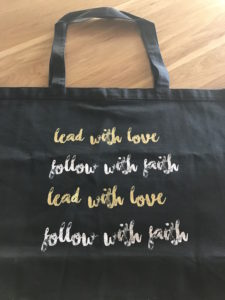 You've got to have a way to carry your dance shoes and water bottles to your lessons, right? Our new tote bags will give you all the space you need! Each canvas bag is made of high quality cotton, and is quite sturdy. With 24″ of room inside, you'll be able to have enough room for even more fun stuff! A velcro closure will help keep everything together.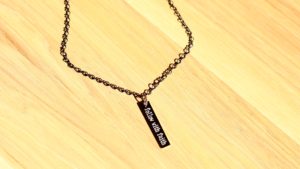 Finally, we're thrilled to reveal our gorgeous gold and silver necklaces, designed for dancers, by dancers. With a ton of fun chain and pendant combinations, you'll have a necklace for every occasion. Dress them up or wear them with jeans. Either way, you'll shine!
All merchandise can be shipped directly to you, so if you don't live here in Arizona with us, that's OK! To purchase any item online, CLICK HERE. You will be transported to Dance FX Studio's secure Online Store to process your payment and set up shipping options. Happy Shopping!
https://dancefxstudios.com/wp-content/uploads/2016/11/dancefxstudios-logo.png
0
0
Sierra
https://dancefxstudios.com/wp-content/uploads/2016/11/dancefxstudios-logo.png
Sierra
2016-12-08 20:51:37
2016-12-08 20:51:37
iLeaduFollow™ Dance Merchandise is Here!