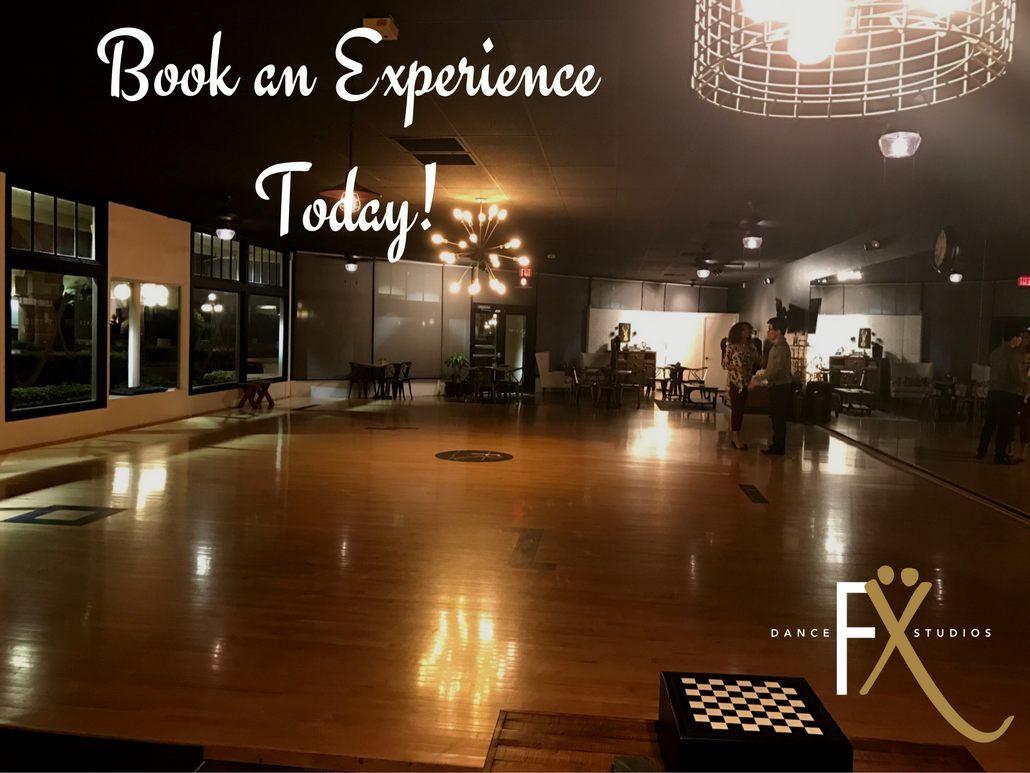 Are you looking for a fun and exciting way to entertain guests at your next event? Were you in charge of putting together the next team-building activity at work and have no idea where to start? We have the perfect, one-of-a-kind "Experience" for your friends, family or co-workers!
Imagine this…It's your wife's 40th birthday and you have no idea what to do. You're looking for something unique that will involve everyone she loves, and you don't want to plan the same old dinner in a private room at a restaurant, or bowling as a group. Instead, you want an adventure! You know she's always wanted to learn to Country dance, so you begin searching online for a bar, only to realize that you can't reserve space for 50 people next to the dance floor on a Saturday night. Then you search further and find us…Dance FX Studios…and you soon realize that you can host your party in our stunning 3,500 sq ft studio. And the best part of it is that you can also give your wife that gift she's always wanted..Country Dance Lessons!
How does all of this fit into one night of fun? Easy! With our new FX Experiences, you can make any event a "next level" event! We've really kicked it up a notch when it comes to figuring out all the details for you. From bartending service, to 3 Group Dance Classes in the style of your choice, to a DJ and host, your upcoming party will be talked about for years to come!
There are several different Experiences to choose between. Here are just some of the exciting details of each one…
The Full Experience
Rent the studio for up to three hours on a Friday or Saturday night and prepare to have some major FUN! We will teach your guests several dances in 20-minute Group Dance Classes to show them how to strut their stuff in a variety of popular social dances, from Country to Latin and Swing to the sexy Argentine Tango. We will include time for mingling, grabbing a drink, and even catering service, if you'd like to include food. Once everyone can tell the difference between their right foot and their left, we will have a "Dance Off!" for a prize, just to see what everyone learned! Trust us when we say that your friends and family will be surprised with how much they got out of those mini Dance Classes, and how easy we make it to learn to dance. We will pack in great tips to get everyone moving comfortably on the dance floor.
There's much more that comes with this package. Get more information on The Full Experience by clicking here.
The Mini Experience
A Mini Experience is just what it sounds like! Same exciting dance classes, same great instruction, just less time to play! Shorter events can be booked any day/evening of the week except Friday and Saturday nights, which are reserved for Full Experiences. We can even accommodate your group on a weekday in the late morning hours. What a creative way to get your office together and enjoy be out from behind the desk and on to the dance floor. Yes, dancing may be out of their comfort zone, but it's a wonderful way to encourage team mates to work together and learn to support each other. For more on The Mini Experience, click here.
Dance FX Studios is available to rent for Corporate Events, including awards ceremonies and holiday parties. Why crowd yourselves into a restaurant with nothing to do but talk when you can be moving and grooving on the dance floor? With so much more included, you will be putting on a party to remember.
Dance FX Studios is located in Mesa, Arizona. We are on the south east corner of Dobson and Guadalupe Rd.'s, just off the 101 highway. For your next party, consider us! You'll be so glad you did!
https://dancefxstudios.com/wp-content/uploads/2014/09/BookanExperience-1.png
773
1030
Sierra
https://dancefxstudios.com/wp-content/uploads/2016/11/dancefxstudios-logo.png
Sierra
2017-01-30 16:28:07
2017-01-30 16:28:07
Rent Our Studio for a Unique Party Experience!